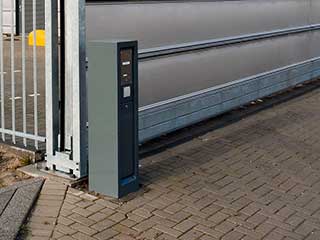 The trusty gate opener plays an important role in many people's homes. When they break down or falter the loss of the convenience that they bring can be huge blow. Here we go over some of the most common ways in which owners can malfunction and how a trained technician will be able to help.
Gate Opener Sensors
All modern automatic gate openers will come with sensors that stop them from damaging people or property that gets caught in the gate's path. These sensors can fail due to misalignment, dirt, damage or faulty parts. They are simple enough to replace or repair if you have the knowledge. Amateurs however are likely to make matters worse or become frustrated with a lack of results if they attempt to correct them on their own. If your gate opener seems to reach a certain point and stop or fails to open at all, your issue is likely to do with the sensors.
Battery Issues
Gate opener batteries can often be housed in boxes placed next to the gate itself. When it's cold enough, you might find your gate stalling when you first try and operate it. This can be because the battery is essentially struggling to generate enough charge to power the gate. Much like the battery in a car, when it fails to hold enough charge to turn the engine quickly. It can take a few activations before it warms enough to get going. If you have a weak battery it can be replaced for a newer more efficient one. The best gate openers will feature upgraded containers with insulation and other parts to prevent the same issue occurring.
Problems with the Remote
Remotes can require reprogramming, be physically crushed or fail to send a signal entirely. They can be replaced or reconfigured easily and our trained experts will know exactly which models will best suit your current equipment.
Expert Gate Opener Services
Gate Repair Allen can offer professional gate opener installation and gate repair services. If you can't quite identify the cause of your issue, we can provide thorough throughout and ensure the problem is fixed entirely.
We have the expertise to replace or repair any opener component and won't leave until you are completely satisfied with our work.
Count on our team for:

Solid Sliding Gates

Phone Entry Systems

Gate Opener Keypads

Swing Gate Adjustment